Elena, a great romanian designer and creator of Design Disease and Premium Themes, has updated the design of her website and was kind enough to release her previous and awesome design. The name of the theme for WordPress could not be other than Design Disease and now converted to Blogger template by Blog and Web.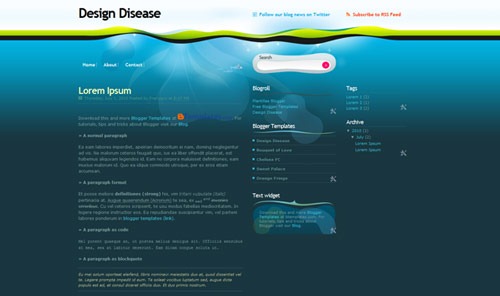 Features
3 Columns.
Menu with static pages.
Color Settings from the panel.
Comments in the footer completely adapted.
Form on the same page and great support for avatars.
Download
Blogger: Download | Demo
WordPress: Download | Demo
Settings
1. Twitter
Search within your template code (Home → Design → Edit HTML) the following url:
http://twitter.com/btemplates
And replace it with your own twitter URL.
2. Menu
To add links to the menu, simply create a new static page from the Dashboard.
Lisence
This work is licensed Creative Commons Attribution-Share Alike 3.0 License. This means you may use it, and make any changes you like. Just leave the credits on footer to respect the designer's work.
Related posts