Blog Life is a design originally created for WordPress by Get a custom design, and ported to Blogger by Blog and Web and BTemplates. Has two columns, support for static pages, color settings from the panel, includes PSD file and an excellent use of typography.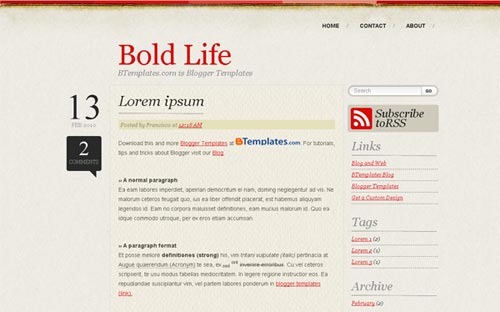 Download
Installation
You can read our FAQ section to see how to install a blogger template.
Settings
Menu
To add links to the menu simply create a new static page from the Dashboard.
Date
Change the format of Date Header Format (Dashboard → Settings → Formatting → Date Header Format) for the penultimate option.
License
This template is released under GPL.
If you remix, convert, translate, modify, or distribute a copy of this theme, please keep intact the links/credit in the footer (Not remove or add links on the credits).
Related posts